For the preservation of the obstetrics department at the clinic center Neuperlach
Another delivery room is to be closed in Munich, but the employees are fighting back with a petition that already has over 10,000 supporters! We publish the petition of the employees in English. Sign the petition by clicking the Link below!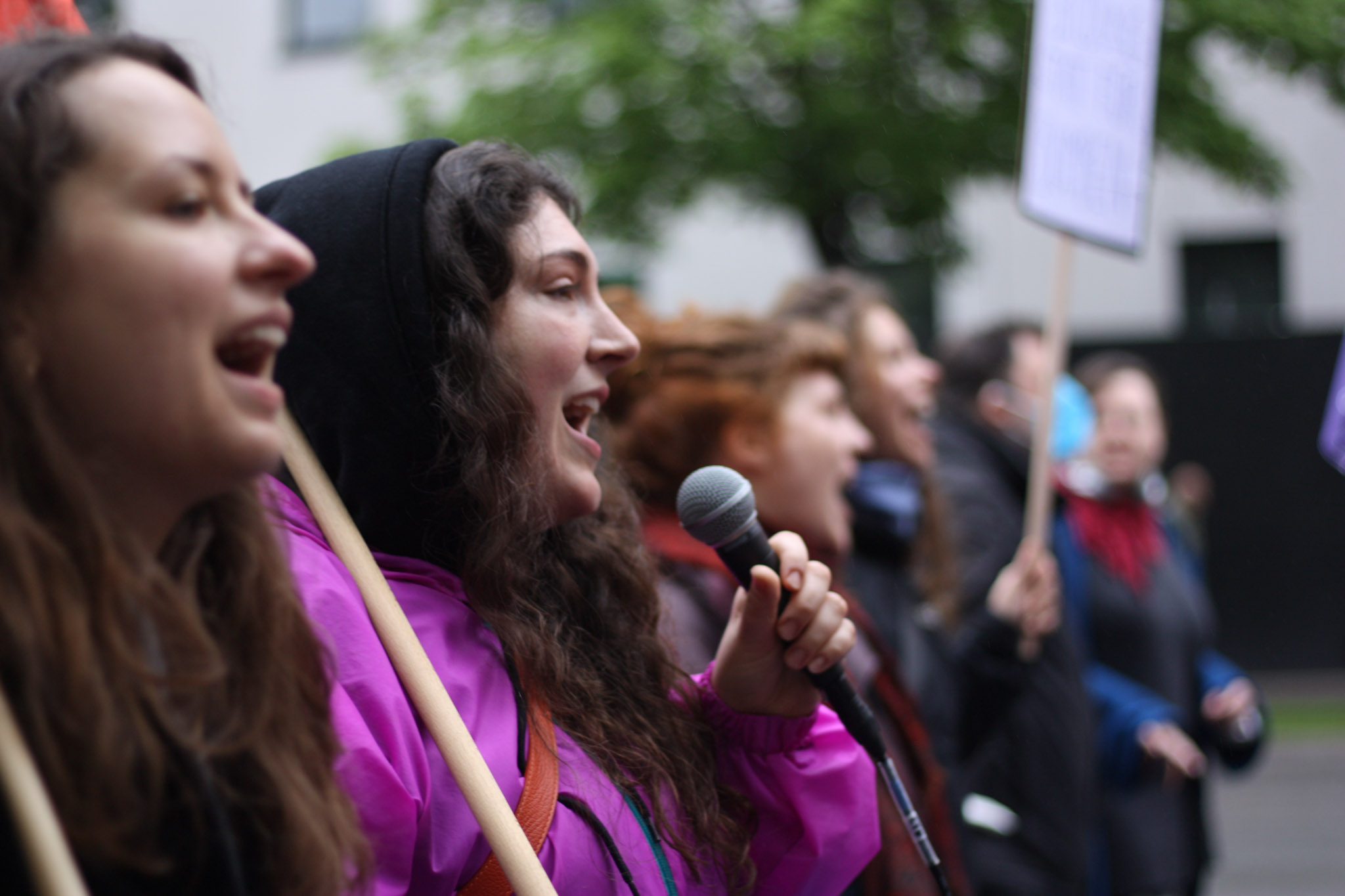 Foto: Ayrin Giorgia / Klasse Gegen Klasse
We are the team of the delivery room and the childbed ward at Klinikum Neuperlach. We are a total of 50 midwives and (pediatric) nurses and work together around the clock to provide families with self-determined and safe support during birth and to give children a good start in life.
Now we are threatened with the closure of our women's clinic. This would mean a deterioration of care for all families in Neuperlach and the neighboring districts, as well as for the surrounding area.
In this petition, we object to the City Council resolution of 2015, which plans to fuse the obstetrics departments of Harlaching and Neuperlach in 2024, and we advocate for the preservation of our delivery room and childbed station.
Over 13.000 people have already signed - Sign our petition here!!
Why would the obstetrics department at Klinikum Neuperlach be closed?
The delivery rooms in Neuperlach and Harlaching are to be merged and the staff transferred from Neuperlach to Harlaching. Over the past 15 years, partly as a result of such measures, more than a third of Germany's delivery rooms have already disappeared.
This centralization policy is based on economically motivated cost-cutting measures and is not aimed at improving health care.
We are against profit-oriented measures in the health service such as centralizations but for a patient-side-oriented supply!
Why must the Neuperlach delivery room location be preserved?
The closure is short-term and not sustainable. There is an increasing population growth in the east of Munich. In perspective, more obstetrics departments are needed, not fewer.
Between 2015 and 2021, 12% more children were born in Neuperlach. Therefore, our department will continue to be necessary in the future.
We want to maintain and further expand our natural, women-oriented and individualized obstetrics. We are a highly motivated team that has been working together for years without a lack of staff and can provide very personalized care. In a house with > 4000 births this is often not possible.
We want to ensure professional and needs-oriented care for women and newborns in the health care system, care close to home for those giving birth, and a free choice of birth location! Munich is growing, many young families are moving to the southeast and the distances to the next delivery room are becoming much longer when ours is no longer there.
Due to the great shortage of midwives and pediatric nurses, no midwife or health care worker in Munich can be dispensed with! Due to a closure, the team will disintegrate and some colleagues will not be able or willing to continue working in obstetrics.
With 15% we have the lowest caesarean section rate in Munich. We want to continue to care for pregnant women, women giving birth and young families with our main focus and possibilities.
Functioning departments should not be rationalized away, but supported!
Please sign this petition and spread our demands to preserve our delivery room.
FIRST SIGNERS:
Petition creators:
Kerstin Friebe, Sisko Stenzel, Eva Berghoff, Sarah Neumahr, Astrid Schramm, Carola Köckritz, Charlotte Gestrich, Leonie Lieb, Claudia Brandmair, Denise Schwaier, Helene Schmidt, Halina von Stietencron, Juliane Buse, Michelle Cvetko, Katharina Wimmer, Lydia Fröhlich, Sarah Beckmann, Sofie Hörmann, Sabine Sieber, Teresa Weigand, Susanne Homfeldt, Niloufar Bagherzadeh, Stefanie Gedon, Franziska Mayr, Claudia Sporer, Charlotte Dörnemann, Christa Dengel-Lederer, Sabine Neumann, Sylvia Bucher, Gina Kunz, Azra Gabela
Further supporters:
Mechthild Hofner (1st chairwoman of the Bavarian Midwives Association)
Maria Jacobi (2nd chairwoman of the Bavarian Midwives Association)
Sophie Semmelroggen-Junker (Delivery Room KNK, Berlin Hospital Movement)
Dr. Sabine Richter (gynecologist in Munich)
Dr. Sabine Neuhauser (gynecologist in Munich)
Dr. Birgit Seybold-Kellner (chief physician obstetrics and gynecology, Günzburg)
Benedikt Spannagl (Anesthesia/Clinic Neuperlach)
Melanie Marwitz (1st chairwoman) and Elisabeth Bender for HebaVaria e.V.
Sissi Rasche (midwife from Berlin, podcast "Hebammensalon")
Anja Constance Gaca (midwife, blogger "vonguteneltern")
Lisa Wagner (actress)
Markus Rinderspacher (Member of the Bavarian State Parliament; SPD Member of the Munich-Ramersdorf constituency)
Stefan Jagel (City Councilor and Parliamentary Group Leader DIE LINKE)
Sources:
City Council resolution 2015: https://risi.muenchen.de/risi/dokument/v/5253008
Closure of delivery rooms: https://mother-hood.de/informieren/geburtsstationen-deutschland/
Link to the petition: https://www.change.org/p/f%C3%BCr-den-erhalt-der-geburtshilflichen-abteilung-im-klinikum-neuperlach